Owain Phyfe at Michigan Renaissance Festival (Sept. 2001)
by Victor R. Volkman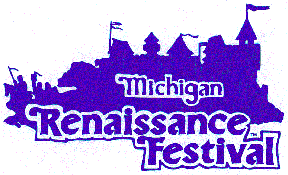 Inches of rain pounded the roof of the chocolate vendor's stand we hunched in for more than half an hour, waiting for the relentless rain to give up on this hottest and wettest September day in memory. The forecast had been for rain, but we'd planned this outing to Michigan Renaissance Festival for months. The rain cleared literally minutes before the first show at 11:45AM. We brushed aside the puddles of water on the bench and settled in for songs by Owain Phyfe accompanied by percussionist Rio Blue and violinist Judy Plester.
The trio was joined in the first set by Spanish flamenco dancer "Manolete" (Peter Suarez) who hit every mark with his castanets. Peter Suarez has performed throughout the U.S. in eight tours with the N.Y. based company Folklorica Latina. Suarez has danced and choreographed for numerous companies including: the Cincinnati Opera, the Lexington Ballet, Ballet Etudes (Miami), Ballet del Puerto Rico, and Ballet Espanol.
Middle Eastern Dance Ensemble member Aurora Price provided a distinctly beautiful visual accompanyment on one song in each set. She hails from Ann Arbor, Michigan. Bassist Dave Holt, who recorded on the "Poets, Bards & Singers of Song" album stopped by to say hello but sat out the sets.
Both sets were an exotic mix of both old favorites and newer pieces. Flying in the face of the "Irish" themed event, he ran up a string of four Spanish pieces in a row (without complaint from the audience). Owain led off with "Oy comamos y bebamos" (from Odyssey) and "Una Matika" as well as "Worldes Bliss" (from "Poets, Bards, & Singers of Song"). Owain talked the audience into providing the droning backup for Worldes Bliss on which we did a passable job. He continued on with other songs from the latter album as well as "Tourdion" (also from Odyssey) which is one of my personal favorites. Next up was "In hac valle florida" (from Live the Legend).
There was a treat from the next album to be released which was a Ukranian folk song (unnamed). The second set ended with the most riotous outtake of "Fuggi, fuggi, fuggi" (from Where Beauty Moves and Wit Delights). It featured a battle of wits between Owain and Judy which erupted when Judy took exception to Owain seemingly failing to notice that it was her birthday. Owain got the upper hand as he maneuvered Judy into singing two choruses unassisted.
No sooner did we exit the faire after the second set (about 2:30PM) than the heavens opened up again and continued to pour rain all the way until the closing hour.
MIRF continues on weekends through September 30th, 2001.
Read more about MIRF: